DR solution is a service providing collection, enrichment and archiving of the NetFlow data. The design is individual for each customer. It consists of two parts. Data source, aka DR probe and data storage, so-called DR collector. DR probes collect information about network traffic and send it to the DR collector. It enriches then the data with additional identifiers and stores them.
Data Retention
Our solution grows continuously according to the customers' needs. Thanks to full cloud technology, it is not necessary to change the HW when switching to higher power or capacity. Any network element supporting the NetFlow protocol can be used as a DR probe: Router, firewall, probe or specialized NAT device. We can use an existing element for the solution, or we will provide you a new one. The cloud service serves as a DR collector, which we provide too, of course.
Of course, it doesn`t end only with data. The most important is the result. And as the solution is based on a cloud service, it also includes an Internet portal, where you simply specify which connections are you interested in (or are listed in a possible court order). According to the search criteria you enter, the portal will display the required data on the customer`s identity, which you can then provide to the institution that required it by law.
What are the benefits?
We have already said what the Data Retention solution FlowGuard can do and what it will help you with. However, i tis clear that you need to know what you will get out of this, in addition to fulfilling your legal obligation. Below a brief list.
No costs
If you are a registered ISP, the state will reimburse you 100 % of the costs of performing the legal obligation.

No initial investment, only a monthly fee.

The price of the service includes not only administration, but also electricity, cooling and rack space with us.
No worries and commitments
You do not have to pay an administration and maintenance expert. We take care of that.

You do not need a lease, you do not have to prove the creditworthiness necessary to obtain a lease.

By deploying our service, you fulfill the obligations of Act No. 273/2012 Coll. and requirements of Decree No. 357/2012 Coll. on the storage, transmission and disposal of operational and location data.

The service can be terminated at any time.
Keeping the quality of ISP services
Thanks to the fast interface, the quality of the services you provide is maintained, without affecting the throughput and overall quality of services.

The capacity of the DR solution is continuously increased according to your needs based on the number of Flow/ sec per month.
 Service deployment
Meeting, design of a tailor-made solution – where the netflow will come from, will be very individual for each ISP. Probes can be offered for rent for a monthly fee – processing of the request for payment of the service by the state and subsequent implementation.
Introduction meeting
Contact us, then we contact you and arrange an appointment.
Analysis
We analyze your needs, recommend a suitable solution and tailor-made settings.
Solution
You carelessly fulfill the obligations of Act No. 273/2012 Coll. And the requirements of Decree No. 357/2012 Coll. on the storage, transmission and disposal of operational and location data.
How to start with FlowGuard?
Contact us and we get back to you. We make an appointment to find out your needs. Together we come up with a solution that is exactly right one for you. So it only takes a few weeks from filling in the form until you are fully protected. Well, then you just think about your business. That sounds good, doesn`t it?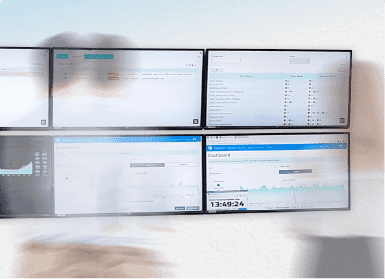 Smart attack detection
Machine learning and artificial intelligence help us to be on step ahead of the attackers.
Tested in practice
We continuously adjust the functionalities according to the current situation, e.g. size and attack vectors.
Fast cloud solution
We provide you with smooth operation, logging, 24/7 monitoring or cleaning from malicious code.