Nobody can avoid hackers´ attacks today
It doesn´t matter if you are a manufacturing or trading company, run an online store or publish key information as a government agency. By protecting websites and servers, you protect your organization from losing reputation, potential customers, or revenue from online service outages.
Our Website Protection solution FlowGuard protects you during an ongoing attack without interrupting website traffic. During DDoS attacks, it identifies dangerous data and effectively neutralizes it. It uses the massive cloud infrastructure on which the service is operated.
Why do you need our solution? Because:
It permanently protects you from online service outages and unwanted traffic.
Protects you from the automatic collection of information and the excessive load caused by bots.
It is easy to manage and does not require technical knowledge.
You can switch to the solution without changing the hosting.
It works in the cloud, so you don´t incur any additional space or infrastructure costs.
On-line graphic reporting is available on a clear portal anytime and from anywhere.
Preventive protection against DDoS attacks is much easier and cheaper than subsequent troubleshooting. Gain the unique FlowGuard Website Protection from the renowned security company ComSource and you will be surely satisfied.
How to start with FlowGuard?
Is your web site protected? Consult our specialists for protection against DDoS attacks. Do you have special requirements for web protection? Contact us. We have a solution for you too!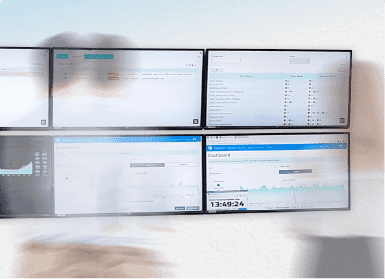 Smart attack detection
Machine learning and artificial intelligence help us to be on step ahead of the attackers.
Tested in practice
We continuously adjust the functionalities according to the current situation, e.g. size and attack vectors.
Fast cloud solution
We provide you with smooth operation, logging, 24/7 monitoring or cleaning from malicious code.