Learn about FlowGuard Website Protection. I tis a unique web services protection service developed by ComSource. It works on the basis of protection of web servers against attacks into the L7 OSI model. It is operated as a service in the cloud, to which the customer`s network traffic is redirected using DNS.
Who is FlowGuard Website Protection for?
FlowGuard Website Protection is primarily designed to protect web services, and its undeniable biggest advantage is the continued availability of the customer`s web services. Even during a DDoS attack, as it does not work on the IP addresses blockage principle, which are just as often forget, but on the principle of identifying dangerous data and their effective neutralization. Thanks to that legitimate users retain access to your online services.
How does it work?
When the service is deployed the client`s network traffic is redirected to the cloud via DNS, and you are protected from that point on. FlowGuard Website Protection constantly monitors the flow of data and can reliably identify dangerous data. As soon as it detects that your site is under attack, the defense mechanism is activated. In a massive cloud infrastructure, infected data is cleaned of dangerous content, and only legitimate data flows can go back to the network infrastructure of your protected service. Komu
Web service protection
against DDoS and other attack types

against excessive load caused by bots

against automatic information collection done by bots

against unwanted operation
Reporting and analysis
graphic portal

qualitative metrics

troubleshooting

applied restrictions (enclosure, blockage)
Additional service
Load Balancing

Rate Limiting
 Service deployment
In principle, the web service protection via FlowGuard service can be implemented in three versions, which are different in type of technical solution. The implementation is done as a project. Based on introduction meeting, we evaluate your situation and on this basis we suggest the most suitable solution and the scope of assistance, e.g. when redirecting operation.
Introduction meeting
Contact us, then we contact you and arrange an appointment.
Analysis
We analyze your needs, recommend a suitable solution and tailor-made settings.
Solution
The solution works immediately after deployment. Your online services, data and infrastructure are secured.
How to start with FlowGuard?
Is your web site protected? Consult our specialists for protection against DDoS attacks. Do you have special requirements for web protection? Contact us. We have a solution for you too!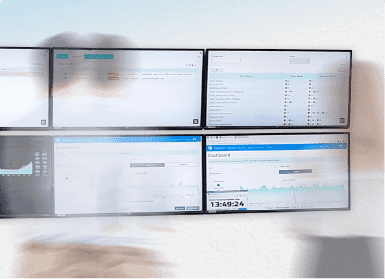 Smart attack detection
Machine learning and artificial intelligence help us to be on step ahead of the attackers.
Tested in practice
We continuously adjust the functionalities according to the current situation, e.g. size and attack vectors.
Fast cloud solution
We provide you with smooth operation, logging, 24/7 monitoring or cleaning from malicious code.