Solution for healthcare
FlowGuard mitigates DDoS attacks. It ensures the permanent availability of all your online services and related processes. It thus frees up both your staff and technical capacities for the human health care.
Safe healthcare = health protection
Healthcare is not just about proper care, but also about information. Most hospitals, health insurance companies, clinics and private practices have websites, online reservations or insurance overview applications. Professional workplaces in hospitals and doctors Exchange data over a network that operates on the Internet or by e-mail.
At the moment, they become a target for volumetric DDoS attacks. You are trying to paralyze online services and network infrastructure. Attacks on health care institutions can cause great damage. Attempts to steal sensitive data or blackmail often follow. But FlowGuard can stop them.
An internet outage means that people cannot find contacts, order a examination, register with the club of insured persons, or do not send an annual report. Websites for sharing know-how between healthcare professionals, PACS databases, online meetings or cloud storage in insurance companies do not work.
Even worse is, when doctors do not get laboratory results, X-ray or CT in time, because the network or e-mail does not work or when you can´t issue an e-recipe. Then human health or even life is endangered. And we don´t want to allow that. Contact us! FlowGuard is here so you can focus on human health.
Data Retention – storage of operational data
The remotely accessible cloud solution FlowGuard Data Retention is an efficient and economical tool without obligations for storing operational and location data. It serves both for the needs of internal incident investigation and for meeting the requirements of the Electronic Communications Act.
How to start with FlowGuard?
Contact us and we will get back to you. We make an appointment to find out what are your need. Together we come up with a solution exactly for you. So it only takes a few weeks from filling in the form until you are fully protected. Well, then you can just focus on your business. That sounds good, doesn`t it?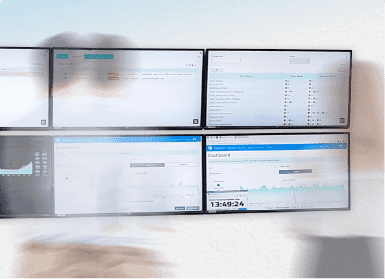 Smart attack detection
Machine learning and artificial intelligence help us to be on step ahead of the attackers.
Tested in practice
We continuously adjust the functionalities according to the current situation, e.g. size and attack vectors.
Fast cloud solution
We provide you with smooth operation, logging, 24/7 monitoring or cleaning from malicious code.