Solution for corporations
Thanks to FlowGuard, your employees and customers will have permanent access to Internet and network services. With us, your business won´t stop.
Success of modern business depends on availability of online services
It doe not matter what field you do business in. But in the 21st century, the rule is: If you are not on the Internet, as if you weren´t. You definitely use at least websites, email or social networks. And at the moment you are threatened by so-called DDoS attacks. They try to disrupt or completely disable the operation of your network due to the congestion of a huge amount of data. They can even mask an attempt to steal sensitive information.
The consequences of disconnection from the Internet are far-reaching. Order forms, mobile, B2C and B2B applications, reservations or e-mails and online meetings do not work. It also means a failure of the VPN connection and unavailability of cloud services. So you will not see stored CRM data, inputs for production or economic systems, attendance, etc. Managed devices also have problems – no computer or mobile phone is connected to the company network. Of course, your infrastructure will also be impacted.
The financial and other losses due to a website or infrastructure outage can be huge. But the FlowGuard solution is there to prevent this from happening. It also helps retrospectively – the Data Retention module serves as a source of forensic data in the investigation of security incidents.
Contact us and together we keep your business running despite the wreckers.
Data Retention – storage of operational data
The remotely accessible cloud solution FlowGuard Data Retention is an efficient and economical tool without obligations for storing operational and location data. It serves both for the needs of internal incident investigation and for meeting the requirements of the Electronic Communications Act.
How to start with FlowGuard?
Contact us and we will get back to you. We make an appointment to find out what are your need. Together we come up with a solution exactly for you. So it only takes a few weeks from filling in the form until you are fully protected. Well, then you can just focus on your business. That sounds good, doesn`t it?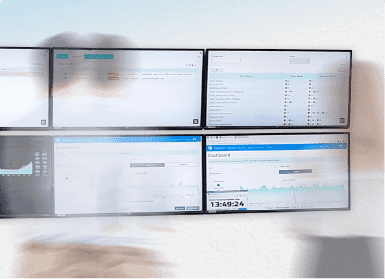 Smart attack detection
Machine learning and artificial intelligence help us to be on step ahead of the attackers.
Tested in practice
We continuously adjust the functionalities according to the current situation, e.g. size and attack vectors.
Fast cloud solution
We provide you with smooth operation, logging, 24/7 monitoring or cleaning from malicious code.